There are an amazing number and diversity of bookstores in San Francisco and during my recent visit I wanted to call into and browse books in as many of them as possible.
Prior to leaving my home in New Zealand I had a look on-line and made myself a list of around 40 bookshops, in the San Francisco area, to explore. However time limits, transport logistics and the risk of what of spending our entire holiday inside bookshops would do to my marriage, forced a compromise of sorts. As a result, what follows is a review of the shops that "we" visited (with a rating of each shop) and the books bough in each.
Our ratings are based on a number of things such as range of books, condition and price of stock, the layout of the shop (was it easy to get around/pleasing to the eye?), the welcome or lack of welcome we received from the staff, the helpfulness/knowledge of product of the staff, was there somewhere to sit and peruse a potential purchase and was sitting and perusing frowned upon or encouraged – to name but a few.
The first bookshop we visited in San Francisco was Christopher's Books – about which I have already blogged in a post titled "Potrero Hill (and books and bookshops)". However, Christopher's Book shop and it's owner were such a delight that I want to say again what a lovely shop it is, despite its small size it has a huge heart. Except for the fact that there is no space to sit and peruse and that most of the books are full retail price – although I did get 20% off my purchase because April was Poetry month and if you presented the shop with a piece of your own poetry, which I did, you qualified for a 20% discount – I would have given this shop a perfect score. 4.5 out of 5 is the most I can give mainly due to there being no seating area. An excellent shop, and friendly and knowledgeable owner, all the same.
Although technically not a book shop, certain branches of the San Francisco Library have sales areas for discarded books/over stocked books/public donated books. These rooms are run by volunteers who have little time for arranging the books in any kind of sequence so you'll find best sellers mixed in with cook books, kids books in the middle of political history etc. It's a mess – and the area that the books are sold is a very stark, plain concrete walled room with little space and the books on trestle tables. BUT the staff were pleasant and tried to be helpful AND the books were all a dollar each regardless of condition. Again this one was covered in the same blog post as Christopher's Bookshop. A score of 2 out of 5 for value and nice manners of the helpful staff is the best I can manage here.
On a wander through the mission district on the trail of the colourful murals there we called into 3 bookshops. The first was Alley Cat Books at 3036 24th Street.
This is a bookshop and art gallery combined. The gallery is in the back part of the bookshop and is worth a look. But we were here to check out their range of books, of which they had a good variety and a range of prices. They had a couple of tables with sale books on for the cost of just a few dollars. I bought two books from here – Jack Kerouac's "The Town and The City" – this was the famous Beat writers debut novel released 7 years before the book that made Kerouac famous, "On the Road". And James Baldwin's "The Devil Finds Work" – which is one of Baldwin's book-length essays. Baldwin wrote mainly about racial, sexual and class distinctions and his experiences of being a gay black man growing up and living in America. He was described by many as a genius. Each book cost me a little under $7 each on sale. There were a lot of interesting books on sale and I had to exercise restraint to keep it to just two purchases. Had I lived in the USA and didn't have to bring my haul of books back to New Zealand in my suitcase I would have really stocked up here. Helpful sales girl behind the counter was available to help, but left us to browse in peace. Very nice store and there were chairs to sit and peruse the books should you feel the need. I'll rate them 4 out of 5
Next along the way was Dog Eared Books – which is owned by the same people who have Alley Cat Books. (Below are two photos – one interior, one exterior of Dog Eared Books, which is at 900 Valencia Street).
Again a nice store with a good selection of new and used books, but due to already having a heavy backpack (2 books, lunch, extra sweat top, camera etc) and still a long walk ahead of us, I resisted the urge to splurge on more books here. There were a couple of hard cover photography books here that caught my eye, but I couldn't justify the extra weight. There were a couple of chairs in a corner for perusing books, but both were occupied by homeless guys – who, despite smelling a little ripe and muttering to themselves, were harmless enough and the store owner was happy for them to sit and shelter for a while. Nice store and stock, but the staff didn't seem interested in their customers so I will only rate them 3 out of 5.
Just one block further along is Borderlands Books at 866 Valencia Street.
Boarderlands specialise in Sci-fi books, fan-fiction and rare editions. Since Sci-fi isn't really my thing and my wife can't stand it, we didn't hang around here for long. They had a good stock of books in good condition and the prices were reasonable. 3.5 out of 5.
A couple of days later we were in the Central Business District of San Francisco and on our way to lunch in Yerba Buena Gardens we called into Alexander Book Company at number 50 2nd Street.
We got a nice welcome from the staff there and set about exploring the shop. It's set over 3 floors and is just brilliant. Upstairs are some very comfortable chairs for sitting and reading your potential purchases and we were left undisturbed to do just that, having selected several books between us from the ground floor tables and bookshelves. We can't resist bargains and I think, from memory, that all our purchases here were reduced in price. I was remarkably restrained yet again and bought just 2 books.
My first choice was Michael Sims "The Adventures of Henry Thoreau". In keeping with my intentions to buy books by American writers – Sims, born in Crossville Tennessee is a noted writer of American non-fiction. In this book, he charts the life of Henry David Thoreau from being a rowdy adventurous child in the mold of Tom Sawyer, moving on to his time at Harvard University, the years spent living in a cabin by Walden Pond…..through to becoming an icon – one of America's most influential writers, ardent environmentalist and proponent of nonviolent activism. I haven't had time to read it yet, so it remains on my to be read list for now. Goodreads gave it a middle of the road 3.8, but I think it's going to be a really good read.
My second book was actually a photography book – or a book of photographs – of one of my favourite cities in the world – Paris. "Forever Paris"- subtitled "Timeless Photographs of the City of Lights", is produced by Flammarion. The photos are all black and white and cover the period from 1930 through to 1970. Some are of everyday people and street scenes, others are iconic Paris landmarks, such as the Eifel Tower and there are even stars of the stage, screen and art world, such as Audrey Hepburn, Josephine Baker, Nina Simone and Salvador Dali. This book is a winner, as far as I am concerned, for anyone interested in Paris, black and white photography, street photography and/or celebrity photos. And as it was reduced to just $4.50 it was more than just a bargain.
My wife outdid me at Alexander's. Her haul of 5 books made my 2 look insignificant. For anyone interested in the environment and climate change, Al Gore's "An Inconvenient Truth (which was released as both a book and a movie documentary in 2006) was a landmark book as it put climate change in layman's terms for us all to understand. The follow up book to this – An Inconvenient Sequel TRUTH TO POWER – was the first of my wife's book haul from Alexander's. It's sold as an "action handbook – to learn the science, find your voice and help solve the climate crisis". Again written in laymen's terms with accompanying diagrams and photographs, I will be borrowing it from my wife, at some point, as I believe that in these times of unusual weather phenomena, extremes of weather and rising sea levels, it pays to be informed.
"Her Brilliant Career" (written in 2013), subtitled Ten Extraordinary Women of the Fifties, by Rachel Cooke. To quote the blurb on the back cover "Rachel Cooke goes back in time to offer an entertaining and Iconoclastic look at ten women in the 1950's – pioneers whose professional careers and complicated private lives helped to create the opportunities available to today's women. These intrepid individuals – among them a film director, a cook, an architect, an editor, an archaeologist, and a race car driver – left the house, discovered the bliss of a career, and ushered in the era of the working woman." Just having a flick through and browsing some of the stories in this book, I may have to borrow this one too. It looks quite interesting.
Geoff Colvin's book "Humans Are Underrated" – "What High Achievers Know that Brilliant Machines Never Will – takes a look at what's happening in the automated workplace. The unavoidable question – will millions of people lose out, unable to best the machine? – is increasingly dominating business, education, economics and policy. Doris Kearns Goodwin (Pulitzer Prize-winning historian) says of the book "Beautifully written and deeply researched, Humans Are Underrated is one of the most creative and insightful leadership books I have ever read. It is a triumph!" Again, just flicking through a few pages and reading random paragraphs, it seems like an interesting and thought provoking book and YET ANOTHER to add to my to be read list.
"Reality is Not What it Seems" – The Journey to Quantum Gravity – is another of the books my wife selected. This one written by Italian theoretical physicist Carlo Rovelli. "What??? " I hear you ask….."sounds like a real page turner!" But Rovelli's earlier book "Seven Lessons on Physics" was actually a best seller and was translated into more than forty languages, so there must be something to it. Add to this, that one of our sons is a Harvard trained theoretical physicist – and this makes it a must read book for both of us…..so we can keep up with what our son usually talks to us about, instead of it going right over our heads – as usual. Do time and space really exist? What exactly is reality? Rovelli tells us how our understanding of reality has changed over the centuries and how physicists think about the structure of the universe today. He takes us on a wondrous journey from Democritus to Albert Einstein, from Michael Faraday to gravitational waves and from classical physics to his own latest work in quantum gravity. We're invited into a world where space breaks up into tiny grains, time disappears at the smallest scales, and black holes are waiting to explode – a vast universe still largely undiscovered. So that's four from four of my wife's selections that I will have to add to my reading list. Not so however with her final choice.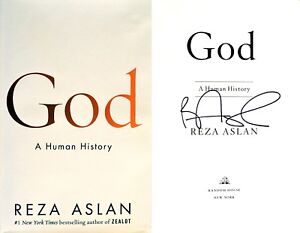 Reza Aslan's 2017 offering is GOD: A Human History and is about the history of religion and how we as humans over the centuries have given our God – what ever our religion – human traits and emotions. Aslan says we should stop doing this. It is a book that will make us reflect and reconsider our assumptions about God and religion. He says "We bestow upon God not just all that is good in human nature – our compassion, our thirst for justice – but all that is bad in it: our greed, our bigotry, our penchant for violence. All these qualities inform our religions, cultures and governments." My wife has an interest in religions and spirituality so will probably find it interesting. For me, the only redeeming quality of this hard cover book is that it is a first edition and the author has signed it – and so added to the collectability value.
So that brings to a close our purchases from Alexanders Books – a shop definitely worth a visit. Due to the great range of books, friendly staff, pleasant layout and great seating area I give them 4.75 out of 5.
I was hoping to go to an author reading event at Green Apple Books, but regrettably I never got to set foot in their main store at 506 Clement Street which has over 60,000 new books and over 100,000 second hand books on its shelves. We did however manage to call into their second, albeit smaller shop – Green Apple Books on the Park – on the southern edge of Golden Gate Park at 1231 9th Ave.
A smallish, long and narrow shop with knowledgeable staff, a good selection of fiction and nonfiction and a chair here and there on which to sit and read. The sale books were particularly worthy of our attention. Another 4 out of 5 rating from me.
From here, my wife bought a beautiful large hard cover book about American Charcuterie put out by Olympia Provisions of Portland Oregon. We had only recently visited Portland a few days earlier and indeed the charcuterie – quality meats – on sale there were second to none. It has some lovely photos and simple to follow recipes and instructions on how to make, cure, preserve, cut and serve meats that will be the envy of your friends. The cover price of $40 US Dollars had been reduced to a bargain price of $15 – it would have been a crime not to buy it. I will be writing a separate post covering our weekend trip to Portland all about the quality food, drink and of course Powell's City of Books.
My purchase – yes, just the one – was again in keeping with my quest for books by local writers. Dave Eggers – writer, editor, publisher and philanthropist – although born in Boston, now lives and writes in San Francisco, so his nonfiction book "Zeitoun" which follows the fate of a couple caught in between two of America's worst policy disasters: the war on terror and the aftermath of Hurricane Katrina, was an apt choice. Timothy Egan of the New York Times Book Review wrote – "Imagine Charles Dickens, his sentimentality in check but his journalistic eyes wide open, roaming New Orleans after it was buried by Hurricane Katrina….suspense blended with just enough information to stoke reader outrage and what is likely to be a typical response: How could this happen in America?….Fifty years from now, when people want to know what happened to this once-great city during a shameful episode of our history, they will still be talking about a family named Zeitoun."
A book shop that we visited but didn't buy anything was the Castro District branch of Dog Eared Books. Since we were passing yet another San Francisco book store we felt we just had to go in for a look, but by this point in our trip we were totally "booked out" having reached maximum weight for both our suitcases. The shop was well laid out and there were the usual sale tables. There was also a crate of free books just outside the door of the shop. Back inside, and this being the Castro District, the subject matter was slanted toward the predominantly gay/lesbian/transsexual clientele with the largest collection of material by LGBT writers that I never knew existed. There were also some rather explicit photography books and other picture books that I think I may have had problems getting through New Zealand customs….another reason not to buy. Some of the books would have made interesting reading of that I have no doubt. The shop itself was small, but well laid out. Due to the limited subject matter, the fact that the rainbow coloured plastic strips across the doorway made it look like a rather cheap 'Adult' shop, and the rather sullen girl behind the counter, the most I can rate this store is 2.5 out of 5. Definitely worth calling in for curiosity sake though.
No post about independent bookstores of San Francisco could be considered any where complete without a mention of, and a visit to, City Lights Bookstore. Home of the beat generation of writers, this shop has been around since the 1950's and is probably the most famous book store in the whole of California. Original co-owner – poet, publisher, painter and social activist Lawrence Ferlinghetti still calls into the store every now and then, but sadly wasn't there when we called in. It's a pity really as his presence may have made the staff a little more approachable and less "up themselves". Sometimes working in a famous store goes to people's heads. The shop is a warren of rooms and bookshelves but very pleasant to walk around and browse the huge range of subject matter. There are a lot of "social issue" type books, in line with Ferlinghetti's freedom of speech/freedom of expression mantra. The making one of the upstairs rooms exclusively for poetry, complete with a desk and a couple of chairs is a welcome refuge in which to read in peace. My rating of 3.5 out of 5 reflects the attitude of the staff and lowers what would have been a much higher score.
Despite the vast and interesting range of books I limited myself to a single book purchase here – Lawrence Ferlinghetti's modern classic "A Coney Island of the Mind", a collection of what is recognised as some of his best poems written during a short period in the 1950's.
And that brings our little trip around a few of the many San Francisco Independent Book Shops to a close.