Yet again I have to credit my wife in introducing me firstly to a documentary and secondly to a movie about a brilliant lady, Temple Grandin, who just happens to be autistic. She, my wife, had been reading a book called On Eating Meat – by Matthew Evans. It's a book about the production of meat and the ethics involved in eating it. Sounds like a real page-turner doesn't it (said sarcastically). Strangely enough it IS. It really is a book for everyone to read – meat eaters, vegetarians and vegans. It looks into all aspects of raising animals for meat and also looks into the ethics of veggie and vegan food production. You'd be amazed at how many animals get killed in the process of growing vegetables and fruit. So, like it or not, no food can be eaten totally guilt free. Evans is both a farmer and a chef, and is known as the Gourmet Farmer.
In the book Evans refers to a BBC documentary about Temple Grandin titled The Woman Who Thinks Like A Cow. My wife, being my wife, did what she always does and looked up the documentary on line. Of course she insisted I watch it with her. What an eye opener into the world of Autism. AND what an amazing person Doctor Temple Grandin turns out to be. Look up the documentary on line.
This of course led my wife to one of several of Temple Grandin's books – The Autistic Brain…..in which, Grandin, who is one of the most accomplished adults with autism in the world, reports from the forefront of Autism Science including remarkable discoveries about the brain and the latest genetic research.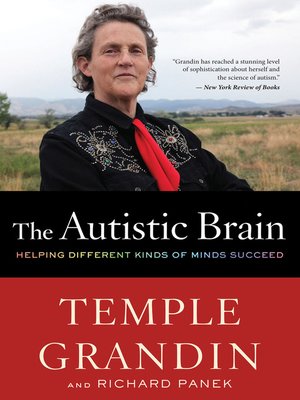 Her view is that we need to treat autism symptom by symptom rather than with an umbrella diagnosis. She also argues that raising autistic children needs to be less about focussing on their weaknesses and more about fostering their unique contributions, saying autism can be turned into a gift, not a disability.
And onward to a movie about her life, an HBO Original Film starring Claire Danes in the title role. We borrowed a copy of the DVD from our local library and watched it last night. It's a most excellent and interesting movie – very much worth watching. Temple Grandin's mother was told, when she was only a very young girl, that she should be placed in an institution and given electro-therapy. Thankfully her mother declined and looked into other methods of helping her daughter become what she wanted to be, including getting her a speech therapist, and sending her to specialist schools. It sheds a light on autism that I, for one, knew nothing about. The link to the official trailer is below. Claire Danes does an amazing job in portraying Dr Grandin in both her voice and her mannerisms. We follow her trials and tribulations, facing not only autism head on, but also the cruelty of others towards her, on her way to becoming a PhD and a legend in both the business and the welfare of cattle.
And if anyone would like to delve further into Temple Grandin's life and works, her own websites are available on line. Links are below
and https://templegrandin.com/
Enjoy…and prepared to be amazed.