I have a love/hate relationship with Hemingway. I have tried a number of times to read his novels. Every book of his has frustrated me and I've put them down unfinished. There's just something about his style of writing that grates against me….like fingernails down a chalk-board.
It was therefore with some trepidation that I picked up "A Moveable Feast" in our local library, vowing to give Hemingway one last chance to redeem himself. I'm already half way through and to my surprise and delight I am actually enjoying it…..so what's changed? Frankly I have no idea. The writing style is the same so perhaps it's the subject matter….my beloved Paris.
Ah Paris! City of Lights, City of Love and Romance, City of Style and Fashion, City of Art and Literature. Home of many of the writing greats of the past and present…for some permanently for others a temporary home. And no doubt she…Paris…will continue to inspire writers and artists for years to come.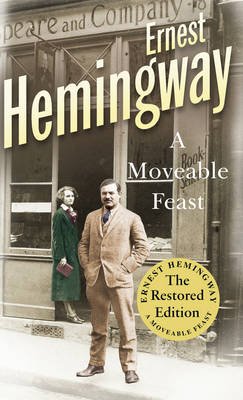 It should be noted that this particular book is not a novel….but more a collection of essays about Hemingway's time spent in Paris. According to the all knowing oracle Wikipedia – "A Moveable Feast is a memoir by American author Ernest Hemingway about his years as a struggling young migrant journalist and writer in Paris in the 1920's. The book, first published in 1964, describes the author's apprenticeship as a young writer while he was married to his first wife, Hadley Richardson." Possibly it is just my time to find enlightenment in Hemingway's words. Unlike my wife who had to read Hemingway's "The old man and the sea" at school and proclaimed it "possibly the most boring book in the world" – I only ever thought to pick up one of his books after seeing Woody Allen's 2011 movie "Midnight in Paris" – which I have touched on in an earlier blog post.
In the movie Hemingway is seen rubbing shoulders with other literary and artistic greats such as Scott and Zelda Fitzgerald, Gertrude Stein, T.S. Eliot (all members of the Lost Generation of writers), Pablo Picasso, Degas, Man Ray, Cole Porter and many others. I initially thought that it was simply Allen taking poetic licence in placing all these legendary people in the one place at the same time, but reading Hemingway's book – it confirms that he knew and mixed with many of these people and more. He was also friends with Ezra Pound and James Joyce and politely suffered the company of Ford Madox Ford – who was, it seems, invariably – in later years – the worse for drink. Ford was a fellow writer and novelist, a champion of literature – established, new and experimental, and a publisher. He even published some of Hemingway's work.
It must have been marvelous to have been in Paris back then.
In the movie, Midnight in Paris, Gil Pender – played by Owen Wilson refers to 1920's Paris as being the Golden Age – something refuted by another character Adriana, played by Marion Cotillard – who insisted that the Golden Age was during the Belle Epoque period, which of course ended in 1914 with the start of the first world war. It seems that everyone has their own individual ideal nostalgic period. In the movie, Gil Pender is transported magically back from present day Paris to 1920's Paris. Here is a short YouTube trailer of the movie showing the scene where Pender meets Hemingway. And Hemingway speaks the way that he writes. No one else talks this way….no one!
I would have loved to have been a fly on the wall in the cafes that they frequented. To listen to the literary discussions and friendly, often drunken banter
Hemingway's early years in Paris were as a struggling writer and he and his wife would live in the cheapest part of town in an apartment which shared a bathroom on the landing with other apartments on that floor, would sometimes miss meals and rarely bought new clothes in order to afford the little luxuries of life. Money it seems would always find Hemingway just at the time that it was most needed. He professes to have had a fairly carefree…almost worry free existence, where finances were concerned. Something always turned up to save the day, whether it be an against the odds win on the horses, an overdue royalty payment from a magazine or publisher, or even simply being able to borrow books from Sylvia Beach's Shakespeare & Company – rather than having to buy them.
I guess it's a reminder that every writer has to start somewhere….and in a way it should give all of us "struggling writers" hope.
I'd love to hear from you….please tell me if you love or hate Hemingway….and if you love his writings, which book you consider to be his finest piece of literature.