As I may have mentioned once or twice on past posts on this blog, I enjoy reading travel books and one of my favourite authors (along with Bill Bryson) is Michael Palin. His travel books usually accompany a TV series of the same name as his books. Since 1989, starting with his first ever travel book and accompanying TV show, Around the World In 80 Days, he was connected, almost at the hip it would seem, to the BBC. Usually, his travel series have multiple episodes. This latest book however, is presented alongside a TV show in only 2 parts, which has already been shown on British TV Chanel Five / ITV productions.
The last time Palin was anywhere near North Korea was back in 1997 for yet another travel book and show Full Circle, but he only got a glimpse of North Korea from the South Korean side of the demilitarized zone. This time he gets a tour of the demilitarized zone from the other side and a frank discussion with the officer in charge. North Korea or we should call it the DPRK – Democratic People's Republic of Korea – lays out the welcome mat and Palin, now in his 75th year, gets to see one of the most secret and mysterious countries on the planet.
Of course he doesn't get free reign to go where he wants. He has two official guides who go everywhere with him plus other "ministry officials" who make sure that his guides don't allow Palin to wander too far off the official track.
He gets to see pristine cities where the streets are almost empty of traffic, giant statues of past "Great Leaders", and symbols and buildings commemorating the "Great Leaders". He also visits a state of the art airport – with no planes and no flights, a street of tower blocks built within a year, that seem to house very few people and a massive, symbolic hotel with no guests what so ever. The DPRK seems to be as a country, much like a show home is to a yet to be built housing estate. Everything is there, it appears, as a front, but there is little substance and in some cases no actual function for the building/hotel/airport. As my grandmother used to say – "All fur coat and no knickers". This was evident in the state of the roads. Within the capital city, the streets were first class, pristine if somewhat devoid of traffic. Once outside city limits though the highways were cracked and uneven – so that every journey felt like a ride inside a tumble dryer.
The first three days – which according to Palin felt like three weeks as it was such hard work to be able to achieve what they wanted and every step had to be negotiated – Palin, his director and film crew are under strict observation and are quickly shut down and moved to another location if anything occurs that may show the DPRK in a bad light. The people he gets to meet are, to begin with, all prearranged, preapproved and very much pro the ruling regime. After a while though, once Palin and company have proved themselves as willing to follow their minders guidelines, they are given a little more rope and get to interact with the general public – some of them rather the worse for drink – at a party in a park and also to enjoy the scenery of the hills and valleys on a hike in the countryside alone when their minders, not dressed suitably for the hike, leave them to it.
At one point they visit a farm – where the workers are in military uniform – and Palin "helps" a female farm worker with some weeding. The shoot couldn't begin however until a tractor had been moved into the background – to prove that farms are not all manual labour in North Korea and that machinery is available (even if the tractor in question was around fifty years old). When Palin asked the female farm worker how he faired as a farmhand, she quite straight forwardly told him that he was "unnecessary".
Even with the loosening of some of the rules, Palin only had to hint at a question critical of the regime or of the history of North Korea and he was pulled up short and sharp. He told one of his guides that in the UK "we are able to be quite rude about our political leaders". But, not wanting to get drawn in to this sort of discussion she countered with "That's what makes us so different. Our leaders are very great. They are not individuals, but represent the masses, so we cannot criticise ourselves, can we?" One wonders at what he and his guides discussed off camera that didn't get put into the book – for the safety of the guides themselves.
There are a few extra pages at the end of the book, written by director Neil Fergusson, which covers his own earlier visit to North Korea to meet with officials and to discuss their filming schedule, rules and regulations. He had sent the North Koreans a wish list of places and people he would like to film, but on his arrival the "official schedule" looked absolutely nothing like what he's asked for. Several days of negotiations followed before a schedule that was acceptable to both sides was reached. Despite promises and signed contracts it wasn't until Palin and the film crew actually stepped on to North Korean soil that they realised that the shooting or the North Korea Journal was good to go.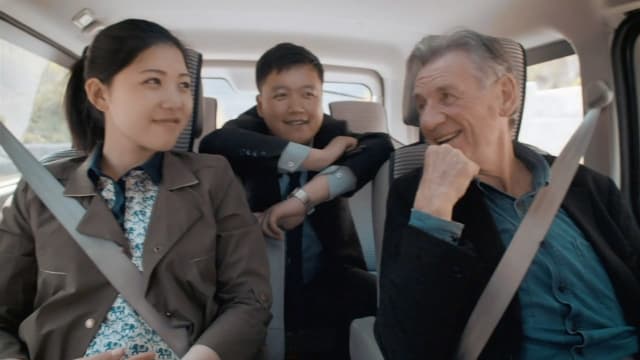 In summarising the 15 day whirlwind trip, Palin says that although there are certainly some differences between how North Korea and for example Britain function as far as regulations and freedoms are concerned, there were far more similarities than he expected.
North Korea feels that it can't let its guard down even slightly due to the ever present American military threat – no wonder it has the 4th largest army in the world. Almost a quarter of the entire North Korean population are members of the armed forces. These military personnel however also man the farms, the factories and the building sites, so you don't see them all wandering around the towns and cities carrying weapons.
To directly quote a section of the final paragraph of the book, Palin says "…the trip has been an eye-opener, a chance to look behind the headlines and see this secretive country as few other westerners ever will. As Pyongyang recedes into the distance, we turn and exchange smiles. Of relief, but also of regret. One thing we all agreed on at our farewell meal last night is that none of us would mind coming back."
All of the travel books by Michael Palin are of good quality and this one is no exception, except for being of smaller format than usual, as you can see from the photo below. It's an easy and enjoyable read, witty and informative – filling in some of the unknowns about North Korea without being in any way controversial or overly critical. Palin is too nice a guy to stir things up just for viewing figures, or book sales. He was Knighted earlier this year (2019) for services to travel, culture and geography following his career as a writer and presenter of documentaries that have taken him all over the world. I do fear, having reached the age of 75, that this could be Palin's last travel adventure. I hope not, but time will tell.
As usual thank you for reading this blog…comments, questions, likes and follows are all very much appreciated.